I'm having all kinds of fun this month! First off - I have to say how excited I am about this news: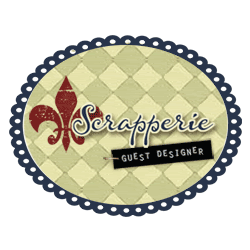 yipppppppeeeee! I don't know what month yet, but I'm super-excited to be chosen over at Scrapperie. Speaking of Scrapperie, they have a contest going on for the month of February. All kinds of challenges going on! I love contests, so I'm all over this one too!
Adam is going with the youth to Boone this weekend, and Amber is going to the middle-school dance tonight, so me and David get a date night tonight. Too bad we don't have any money to do anything really fun! lol! Maybe we can sneak in a trip to the mexican restaurant -- it's been a while and I'm needing my margarita fix!
Hope everybody has a wonderful weekend with lots of scrappy fun time!